Every year in July there is a corn celebration in Brentwood, California. It's called the "Brentwood Cornfest" and is held in the second week of that month.
This year I saw the bulletin requesting recipes for their contest. I thought about it and decided to submit a recipe that include this lucious Brentwood Corn. I chose a salad/side dish for the event. I used to buy a similar salad from a catering establishment in Downtown Brentwood called "Gooseberry Fool". A nice little gourmet store in the heart of Downtown. Sadly, the store is no longer there but many good memories remain. So, I took this salad, put my own spin on it and added grilled corn.
For the contest, ten of us competed for a first, second and third prize. This recipe took second place in the competition and I simply called it "Israeli Couscous with Grilled Corn".
Have you ever tried Brentwood Corn? If not, you are missing out on some of the best corn you have never tasted! Hard to explain, you really have to try it for yourself. It is sweet, without being too sweet, large crunchy kernels and large cobs. I prefer the yellow version, but many people here prefer the white corn.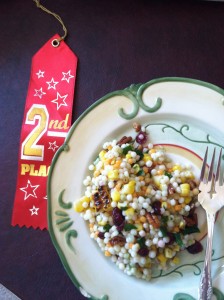 Israeli Couscous Salad with Grilled Corn
1 pkg. Israeli Couscous (prepare as directed on package)
1/3 cup Dried Cranberries
2 cobs Corn, grilled
2 tbsp. Italian Parsley, chopped
3 Green Onions, sliced (green part only)
1/3 cup Pecans, toasted
1/2 cup Lemon and Olive Oil dressing (recipe below)
Mix together all ingredients, except dressing. Stir well. Add dressing. Add more than 1/2 cup dressing if desired. Refrigerate. Serve chilled.
Lemon and Olive Oil Dressing
Zest of 1 Lemon
1/2 cup Lemon Juice
1/2 cup Olive Oil
3 cloves Garlic
1 tsp. Salt
Grate/mince garlic. Combine with salt to make a paste. In container with lid, add all ingredients. Shake well. Makes 1 cup.
Note: I like to add the toasted pecans right before serving, that way they remain toasty & crunchy. I used "Rice Select" Pearl Couscous (Tri-Color), using the whole container (11.53 oz.) I think it makes for a very colorful and pleasing side dish.

Thank you to the Brentwood Cornfest and KSFO 560 Radio for sponsoring the event!