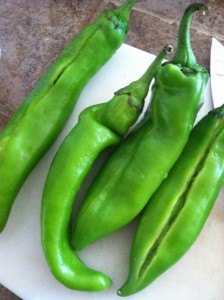 Note – I know this is not a local product, but I do consider it a find! Vacation to New Mexico next year? Sounds like a plan!
I only recently learned about Hatch Chiles by following Melissa's Produce on Facebook.   Apparently this chile has a cult following.  Had it not been for Melissa's Produce posting on Facebook, I probably would have never noticed the large display in my local Raley's Supermarket. They are on sale right now for $.89 cents a pound, a bargain!  Hatch Chiles are grown in the Hatch Valley of New Mexico and it's thought their uniqueness is because of the climate there in the growing season.
I thought these chiles were going to be mild like an Anaheim Chile (who I found out is a relative).  Don't let their looks deceive you!  They are a mild chile but with a kick, as I was preparing them for cooking the air became quite potent with their aroma and I had a coughing fit!  Had to catch my breath, then I touched my face later (without thinking), a slight burning sensation ensued.  But believe me, the experience was worth it!
This is not a recipe, I am just telling you what I did as I did not measure anything, just eyeballed it.
I purchased 4 Hatch Chiles, Sliced down one side and seeded the chiles. They  are more potent than you think so be careful. I baked the chiles for about 15 minutes in my toaster oven at 350 degrees in a prepared dish. I let them cool.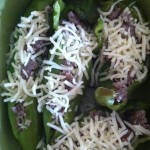 I browned some sausage. On hand I had a 16 ounce package of Farmer John's Spicy Pork Sausage and let it cool. I stirred the sausage with a little bit of low-fat mayo just to moisten and added some Monterey Jack cheese and stuffed the mixture into the prepared chilies.  Then I baked the dish in the toaster oven again for 15 minutes at 350 degrees.  Great side dish!
The verdict on this dish was that it was really tasty, but I wish the filling was moister.  I tried to keep it low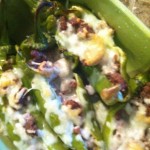 carb.  Next time I might not fully cook the sausage before stuffing the peppers.  But all in all, those Hatch Chiles are a winner, so go out there and get yourself some Hatch Chiles, you won't be disappointed!  These chiles are only available for a short time during the summer, I think until some time in September so you had better hurry and get your fill.
TIPS
There is a newly published cookbook called the Hatch Chile Cookbook by Gloria Chadwick which contains 300 recipes.
Here is a website you can purchase your Hatch Chiles and have them shipped to your home, if they are not locally available for you. (But hurry!)
UPDATE –
I visited my local Raley's Market today (8/20/12) to take advantage of their sale and the Hatch Chiles were GONE!!!