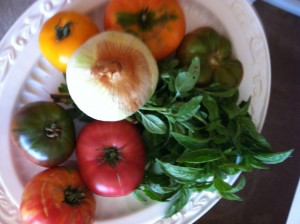 UPDATE – I think I have it figured out.  Will test the recipe again and post next week.  Thank you!
I am making a recipe for the above mentioned pie and I need your help.  The end result was a very tasty dish, with unpleasant results.  The dish ended up being very watery, I believe from the tomatoes.
What I did with the tomatoes was slice them and sprinkle with salt, so the water would leach out.  I let them do that for at least 2 hours and they did leach a lot of water.  Before assembling in the casserole dish, I patted each one dry.  I then baked the pie for about 45 minutes and then let it rest for about 10 minutes.  There must have been at least 1/2 cup of liquid at the bottom of the dish.
What are your recommendations for a more pleasant outcome?  Should I let the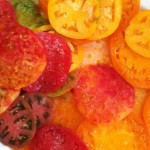 tomatoes sit longer?  Is there a different method?  I don't want to use different tomatoes as this dish was really tasty (coming from someone who is not a big fan of tomatoes) and very eye appealing with all the different colors of tomatoes.
Any suggestions, recommendations and tips would be greatly appreciated!  Thank you and Cheers!