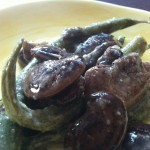 I attended the International Food Bloggers Conference in Portland, Oregon this year.  What a fun event and learned so much.  In attending a conference session titled "Break Out of Your Recipe Routine: Where to Discover New Meals to Blog About"   hosted by Alex Malott of Foodie.com and Currin Berdine of StumbleUpon.  They had a wealth of information to help trigger new ideas, recipes, and more.  In addition, they gave us "homework".  Each of us received a package of ingredients to take home, create a recipe and write about it.  In my package courtesy of Marx Foods there were two ingredients I had never heard of before Christmas Lima Beans and Dill Pollen.
I wondered why they were called Christmas Lima Beans, because at first glance they looked speckled with a brown color, but now that I have soaked them they are a lively red and white/tan color resembling the colors of Christmas!
The first website I visited told me how long to soak the beans (8 hours) and to cook them about 45 minutes.  Well, when that did not work I looked for more website posts.  I found one where the author said cooking the beans could take as long as 2 hours, and to not over cook them.  Well, these beans ended up cooking for hours!  I think at least 4 until they were done.  I lost count after a while.  I think I tasted more raw beans during the process than what was left at the end of the "assignment". Well, I chose to make a bean salad with my ingredients and the end result was quite tasty.
Local Note – The green beans in this recipe are from Smith Family Farm in Knightsen, California.
Christmas Lima Bean & Farm Stand Green Bean Salad
Ingredients:
Christmas Lima Beans
Farm Stand Green Beans
1/4 cup White Wine Vinegar
1/2 cup Oil
1 to 2 teaspoons Dijon Mustard
1/4 teaspoon garlic powder
Salt & Pepper to taste
Dash/smidgen Dill Pollen
Soak the Christmas Lima Beans for at least 8 hours or overnight water covering the beans by over 2 inches.  Rinse. Then cook the beans in water, covering them with several inches of the water.  Boil until tender.  Replace water as necessary.  Once tender, drain and let cool.
Snap ends off green beans.  Place in steamer and steam with water until tender. Cool beans. Place both the Christmas Lima Beans and the green beans in a bowl.
Mix remaining ingredients, except dill pollen,  in a jar with a lid.  Place lid on jar and shake until all ingredients are mixed/emulsified.  Dress beans with the Dijon Mustard Vinaigrette to taste.  Sprinkle a very small amount of the dill pollen on the salad (the dill pollen is very potent).  Stir/toss the salad to coat. Marinate in the refrigerator overnight.  Serve as a side dish with BBQ meats, or as a dish by itself.  Enjoy!