Christmas already?!? I don't know about you, but it is too early for me to think about Christmas.  But on the flip side, maybe it's a good idea to plan ahead.
I am going to share a recipe with you from my Grandma A.  We used to visit her during the summer at her home in Mesa, Arizona and she would make some treats for our arrival.  One of my favorites was her Potato Chip Cookies.  They resemble a shortbread cookie with a salty, crunchy surprise of a potato chip.  I bring up Christmas, because every year for our holiday baking we make these Potato Chip Cookies and share them with friends and family.  For me,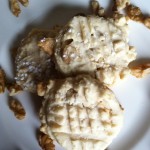 biting into these cookies is just like sharing a memory, fun times and family.
To get the holiday started, so to speak, I am sharing the recipe with you and those from other blogs.  Enjoy!

Grandma A's Potato Chip Cookies
Ingredients
1 cup sugar
¾ pound butter
2 egg yolks
2 teaspoons vanilla
2½ to 3 cups flour
1 cup chopped nuts
1 cup crushed potato chips
Powdered sugar
Instructions
Mix first 4 ingredients and cream together. Add flour and mix well. Fold in potato chips and nuts.
Drop by teaspoonfuls on to a greased cookie sheet. Press with fork dipped in powdered sugar.
Bake 15 to 20 minutes until edges are brown. 350 degree oven.
Dust with powdered sugar while warm, if desired.
Notes
Cinder's Notes - Local Products are Walnuts - California, Butter - California, Eggs - Shelly's Farm Fresh, Brentwood, California,
Local Sources/Finds –
Shelly's Farm Fresh (Eggs)
,
Continente Ranch (California Nuts)